Carey Camp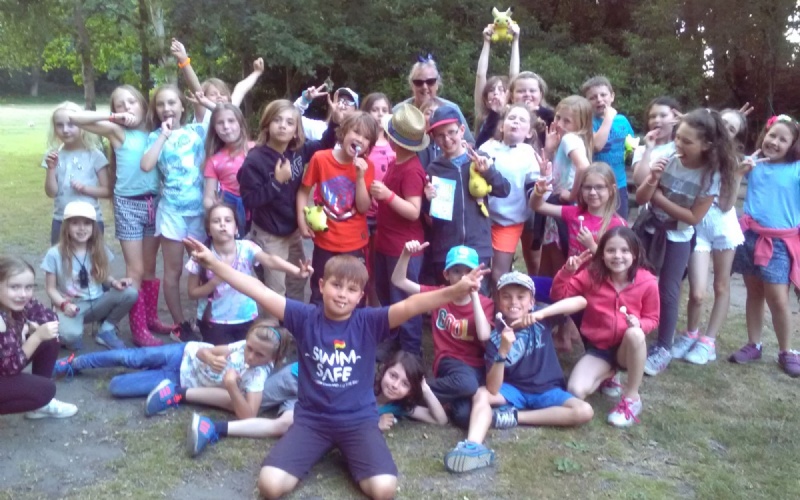 On Tuesday 26th June, our Y4 class, Badgers set off for Carey Camp which is situated on the edge of Wareham Forest. On arriving, the children were shown which tent they would be sleeping in and allocated their bedding mats and blankets. They spent the morning getting settled in before having a pre-lunch game of football. Lunch was eaten in the shade at the lower end of the field.
After lunch, the class was split into groups for activities. There was a rotation of groups managing to visit each activity: low ropes, tunnels, traversing wall and the blindfold trail. Some children found themselves facing big challenges in some activities but huge amounts of courage and resilience were shown and everyone ended the afternoon feeling very proud of their achievements.
Next came the evening meal and one group had to go and help set up for that. When everything had been eaten and the dishes cleared away, we sat around the campfire for Carey's Got Talent. At least half the class performed either song and dance routines or told jokes.
After warm cocoa and biscuits, it was bedtime. Settling everyone down took a while but eventually, all was quiet.
In the morning tents were emptied and cleaned and bedding taken back to the storeroom. By the time all the stray socks, hats and other sundry items had been reunited with their owners, it was time to set off on a walk. It was a very hot day so we were glad to be in the shade of a wooded walk. The children spotted frogs, animal tracks and homes and were given information on a range of topics relating to things that we saw. After a brief encounter with some cows, we got back to the camp.
Shelter Building was the next activity and was greatly enjoyed by all. Once the shelters were finished we had lunch. We were very organised and ready for the coach in good time. Unfortunately a problem with a piece of coach falling off delayed our departure so we sat in the shade with drinks chatting. Eventually, we got back to school tired and hot with memories of a great adventure.