Colville Primary School Visit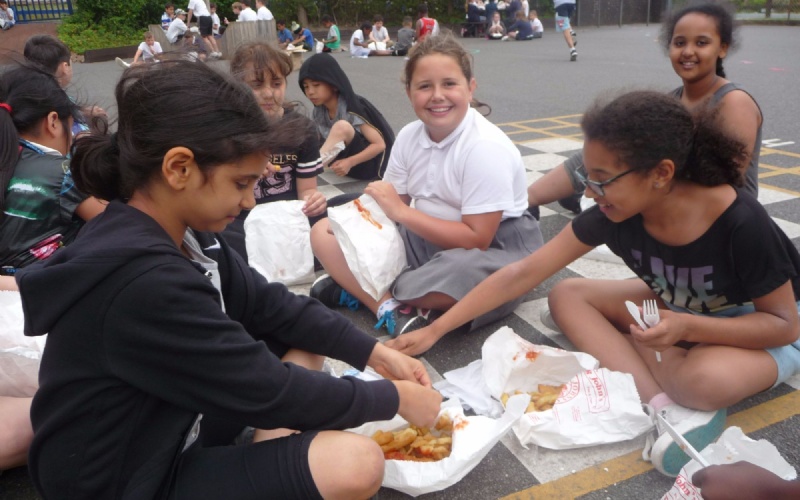 In July, our friends from Colville Primary School visited us. We went to the beach and they stayed the night in our school hall.
The Year 4 children from Colville Primary School pulled out of Portobello Road at the beginning of the day on Thursday 22nd June and arrived at Hayeswood in time for an early lunch with our Year 4 children on the school field.
After lunch we all got onto coaches and drove via Wareham and Corfe Castle to Studland. We were dropped at Shell Bay before the coaches drove back ready to meet us in Poole. We had a wonderful afternoon paddling, making sand sculptures, playing volley ball and generall exploring the beach and collecting shells. During our visit we were lucky enough to see the RNLI out on a training exercsie and then the Marines also training - some in boats and some dropped by parachute from a plane to be picked up! many of our visitors had never actually been to a beach before or seen the sea so it was an amazing experience for them. At the end of the afternoon we all got onto the chain ferry and met the coaches at Sandbanks.
Back at school we were all very pleased to see that our order of fish and chips had arrived. So after eating fish and chips and cakes provided by our parents, our children went home leaving the visitors to play outside. Eventually they all moved indoors to watch a film before settling down for the night.
The next day after breakfast, we set off again for a walk and spent time playing down at BytheWay. At 11am, the Colville children loaded their belongings onto their coach and returned to London.
The visit was greatly enjoyed by the children from both schools. The Colville children are used to a very different environment - they live very close to Grenfell Tower and their school is in the heart of Portobello Road with its famous street market. They have the Albert Hall very close by and access to numerous galleries and amenities. For them it was good to see a more rural setting and to see the Pubeck area first hand to support their learning in Geography. For our Hayeswood children it was an excellent experience. They learnt that although other people may live in very different environments, they still have so much in common. They enjoyed socialising and working in groups with the visitors and learning about their lives and family life as well as introducing them to our environment.
We have already booked the dates for the new Colville Year 4 children to visit us and have a date in the diary for us to visit them and explore their area.
For more pictures click here